Reviews of PRIVATE UNIVERSE by Cornelia Feye
Ms. Feye's Private Universe is a compelling and engaging story that weaves adventure, colorful characters, picturesque settings, and unrelenting suspense into a multilayered and uniquely-crafted novel. Its non-linear narrative describes a metaphysically-infused journey into the authenticity of self through the eyes of Vega Stern, an intelligent young women who's lured into the drug scene of 1970s Germany by a seductive "bad boy." When this dangerous relationship reaches the tipping point and Vega is faced, suddenly, with the prospect of unredemptive addiction and probable death, Vega chooses instead to transform her self-directed recovery into an exploration of spiritual significance, meaningfulness, and genuine self-love. With the symbolism of Great Art her signposts and the Great Masters her mentors, Vega pivots her alienation and exploration into a revelatory breakthrough that illuminates her life and empowers others seeking a "second chance."
-Glen Vecchione, author of The Dream Box
Cornelia Feye's novel, Private Universe, combines an unexpected group of elements: Art history, complex relationships, world travel, and a young woman's search for faith. This story twists with mystery, which is sometimes directed by missteps and other times by guidance from the stars. Here, readers will find a visual and poetic tale that is as truthful as fiction can be.
-Katherine Porter, author of Lesson in Disguise
Cornelia Feye has written another intelligent, readable winner. Part metaphysical mystery, part love story, part coming of age, Private Universe holds the reader in its thrall from beginning to end. This is a multi-layered story with strong, compelling characters. As with her previous books, Feye includes art history and a glimpse into our world as it seen by artists. In all, a thoroughly enjoyable read by a talented writer.
-Tamara Merrill, Author of the Augustus Family Saga Trilogy
Private Universe captivates on several dimensions: it is a reminder of the social temperature of the 1970s, it delves into philosophy, it is enriched by a deep eye for art and art history, it mesmerizes with a tale of travel in exotic places to find one's center. Cornelia Feye is a lyrical writer who explores dark and light landscapes and personalizes the experience of the Middle East during a pivotal time. Her descriptions of art work and geography are knowledgeable and enlightening.
-Carol Buckley, librarian
An inspiring story about overcoming struggles through personal strength and the healing power of art. The character of Vega faces the challenges of drug abuse, personal rejection, and the uncertainties all young people go through, yet she emerges a stronger person, full of hope. The integration of discussions of artworks was handled well, and the descriptions of the art are perceptive and thoughtful. Vega's travel experiences ring true and provide a fascinating glimpse of the cultural and political climate of the Middle East during the 1970s.
-Kathi Bower Peterson, librarian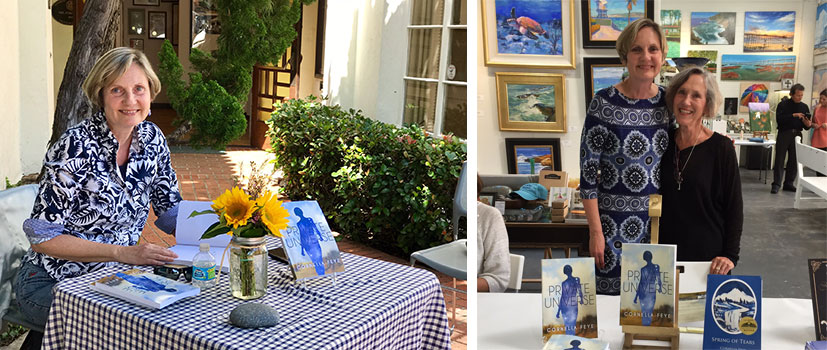 Review:
"At our first meeting, Cornelia Feye envisioned a beautiful book, and spoke of it often, like a mantra. She graciously embraced my poems, treated them with the utmost respect, and provided a gentle and discerning touch. What more can a writer want from a publisher? Thank you Cornelia."
Carlos Carrio, author of "the wine tasted sweeter in the paper cups"